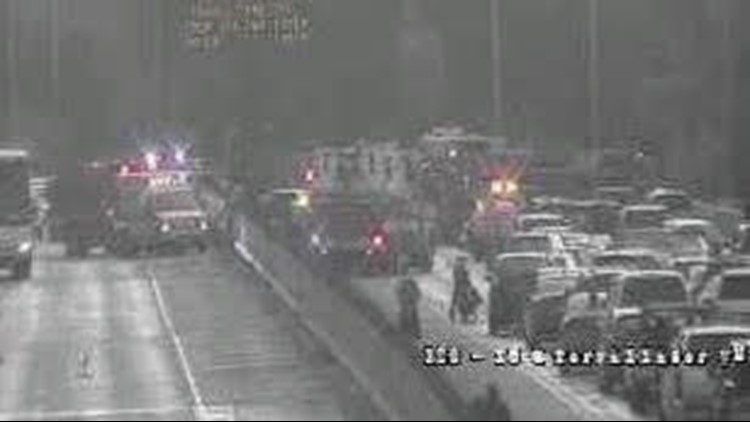 (photo copyright KGW-TV)
It is wise in Portland to check GPS even if you well know the way to your destination, and even if the distance is short. A  flood of people have descended upon the town, and truck traffic has skyrocketed due to the closing of the Port of Portland to ship traffic, yet not a lane-mile has been added to the freeway system. Even in the best of times (Sunday afternoon? Weekday mid-morning?) traffic can come to a crawl. Best to know that before getting on the freeway. 
After a lovely Father's Day dinner out this evening, wisdom did not prevail. GPS was not consulted, and we arrived on the freeway just in time to note that (a) traffic was virtually at a standstill and (b) there was no way out.
The "virtually" part is important. When a major road closes due to an accident ahead, many cars come to a stop with a few extra feet ahead of them. At some point, the drivers become anxious, and they move a few feet forward. The car behind them sees movement and does the same. Someone in the next lane sees this movement and tries to dart in. The jockeying begins. 
But then inevitably there is no room left. The accordion is out of air. The freeway has become a parking lot.
Such is what happened this evening. We got on the freeway with plans to take the very next exit about a mile hence. At 7:30pm, movement came to a crawl, and then I-5 North became a parking lot.
An interesting thing happens when traffic comes to an absolute halt. After the realization that nothing is moving or will be likely to move, resignation sets in. At some point a door opens, then someone comes out of their car, someone else jumps over the barrier at the edge of the road to relive himself or allow his dog to do the same. And faceless drivers become people again.
Two lovely women, Hayden and Mallie, realized after about 45 minutes that they had some water bottles and small refreshment packs in their trunk. They gathered them all up, and began going up and down the line of stopped cars handing out their supplies. They generously gave us a pack of refreshments:
After giving them a hug, I took their picture:
By this time, I had checked KGW-TV.com and found that the cause of this traffic disaster was a multi-car series of accidents just ahead of us that happened when a thunder storm had passed through the area. I shared this information with Hayden, Mallie, and some of our other new neighbors, and all expressed concern that the people involved would be ok. According to KGW, four were taken to the hospital, two having been pinned in their car, all expected to survive. People I spoke with were relieved.
Finally, after about an hour and a half, brake lights could be seen in the distance, people ran back to their cars, doors closed, engines started. Once there was the slightest movement, an interesting thing happened. The jockeying began anew. We were no longer neighbors, we were not people with a shared experience; rather, we immediately become faceless drivers, not people, not neighbors.
In the rear view mirror I saw someone, who we will refer to for convenience as "the asshole," flying down the right lane that quite clearly was coming a close where the accident was still clearing, at not less than 60 mph while the rest of us were barely doing 3mph. It was a big black BMW. Why is it always a big, black something?? Someday this blog will need to do an anthropological study of drivers of big black vehicles. Except for avid reader Randy who has (or at least had) a big black pickup but who is the absolute nicest guy.
Three lanes of backed up traffic many miles long slowly found their way into a single lane as we approached the accident site. As we passed, I had reason to question the KGW report. There was very little left of one car – just the remnants of a wrecked chassis, and what little remained of that was covered with white ash. We'll tune in to KGW in a while and see what the latest is.
But for one brief hour and a half, the random assortment of truckers, families coming home from the weekend away, workers having to work their Sunday jobs and coming home, and fathers celebrating Father's Day, came together to become not vehicles and faceless drivers, but people – neighbors – who were all in it together.